1. What is the Illinois Product Logo Program?
The Illinois Department of Agriculture's (IDOA) Illinois Product Logo Program identifies Illinois products in grocery stores, restaurants, and local community farmers' markets across the state. This registered trademark is available to any Illinois food or agribusiness-related company located in Illinois. The use of the Illinois Product Logo can help increase your company's visibility and your product's positioning within the market.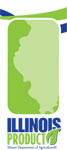 2. Who is eligible?
Any entity that produces, processes, packages, or manufactures a food or agribusiness product in Illinois can be authorized to participate and receive a certificate as an official Illinois Product member free of charge. Examples include food companies, specialty growers, agribusinesses, agricultural producers or related associations. Although there are no requirements to use a certain percentage of state-produced ingredients, IDOA encourages the use of in-state resources and can help you locate Illinois suppliers.
3. How is the logo promoted?
Your company can utilize the high resolution logo for FREE in any or all of your marketing and promotional activities including packaging, merchandising materials and advertising campaigns. The IDOA's Bureau of Marketing and Promotion will support your marketing efforts with a variety of educational and promotional projects and online marketing including retail displays, food service, special events, industry trade shows, state fair exhibits, social marketing and more. IDOA can help your business customize a program to meet your individual needs.
4. What are the benefits?
When you use the Illinois Product logo in your marketing and promotional campaigns, you'll set yourself apart from the competition. Consumers who prefer local products will identify the logo in grocery stores, specialty food stores, farmer's markets, roadside stands, restaurants or trade shows. Differentiating your products can translate into increased profits. Your participation will increase sales of Illinois food and agribusiness products, resulting in increased employment opportunities, and a stronger state economy and agricultural community.
5. The Illinois Product logo can be used by:
Food Companies
Agricultural Organizations 
Fruit & Vegetable Growers 
Christmas Tree Growers
Agribusiness Companies
Seed, Feed and Fertilizer Companies 
Agricultural Equipment Manufacturers
Agricultural Producers 
Restaurants using Illinois Products 
Retail entities that carry Illinois Products
6. For more information about the Illinois Product Logo Program
Please contact:
Illinois Department of Agriculture
Bureau of Marketing and Promotion
c/o Illinois Product Logo Program
P.O. Box 19281
Springfield, IL 62794-9281
agr.illinoisproduct@illinois.gov
7. Rules and Regulations for Using the "Illinois Product" Logo
The logo can be used only to promote products that are produced, processed, packaged, distributed or headquartered in Illinois. ("Produced" includes grown.)  
Any company, organization, association, or individual using the logo must be registered with the Illinois Department of Agriculture prior to using the logo.
Once your application has been approved, you will receive an official Illinois Product certificate recognizing your participation and information on purchasing the high resolution logo and/or point of sale material.  Upon request, IDOA will grant special consent to deviate from these colors. You cannot, however, change the design or graphics of the logo, and the logo must be printed in its entirety. You can print the logo in varying sizes.
The logo may be used in advertising, incorporated into a product's packaging or label, displayed in point-of-purchase materials or signage, on pressure sensitive labels, promotional materials or brochures, letterhead and envelopes, etc.
The right to use the high resolution logo upon receipt of payment is personal to the Applicant and may not be assigned or transferred to any other individual or entity without prior written consent of the Illinois Department of Agriculture.  
The logo is registered by the Illinois Department of Agriculture at the Patent and Trademark Office with both the state and federal governments.
Retail and privately owned entities may use the logo to promote Illinois Products carried within their respective establishments.
8. Looking for the Where Fresh Is Logo Program?
The Where Fresh Is logo program has been rolled into the Illinois Products Logo Program. For any comments, questions or concerns, reach out to Jackie Sambursky at jackie.sambursky@illinois.gov