Standardbred Horse Racing
Standardbred Racing News & Updates
County Fair Nominations

The nomination forms for the County Fair races were mailed last week and there was an error on them.  The nomination amount is still $400 per horse (not $500) until March 15, after March 15 the nomination amount increases to $800 (not $600) and can be submitted until May 15.  If you have any questions, please call Carrie at 217-557-4606 or email at carrie.tisckos@illinois.gov, we apologize for any confusion this caused.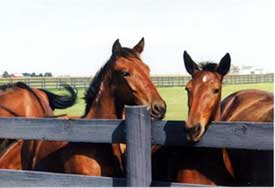 The on-line nomination portal is now available for all nominations to the Cardinal/Violet 2 & 3 year old aces, County Fair Races, and the Springfield and DuQuoin State Fairs Races . If you encounter any problems when trying to nominate your horse(s) on-line, please contact our office at 217-782-4231.

Hawthorne Summer Race Schedule
May 16th-3 Year Old & Up Preview-Springfield

May 23rd-3 Year Old & Up Preview-Springfield
June 3rd-2 Year Old Preview-DuQuoin
Qualifiers will be held on all 3 dates before the purse races. Purse races for preview races are for Illinois breds only.
Hawthorne Races at Springfield/DuQuoin
June 8th-9th in DuQuoin
June 15th-16th in Springfield
June 22nd-23rd in Springfield (3 Year Old Cardinal/Violet Races)
June 30th-July 1st in DuQuoin
July 6th-7th in Springfield
July 13th-14th in Springfield
July 20th-21st in Springfield
July 27th-28th in Springfield
Qualifiers will be held on the first day of races each week before the purse races.

For all races, post-times will be noon in Springfield and 1:00 p.m. in DuQuoin. 
Standardbred Stallion Directory
Standardbred Harness Racing Schedules
2023_Stakes Guide - we have found some errors in the Stakes Guide and they have been corrected and posted.